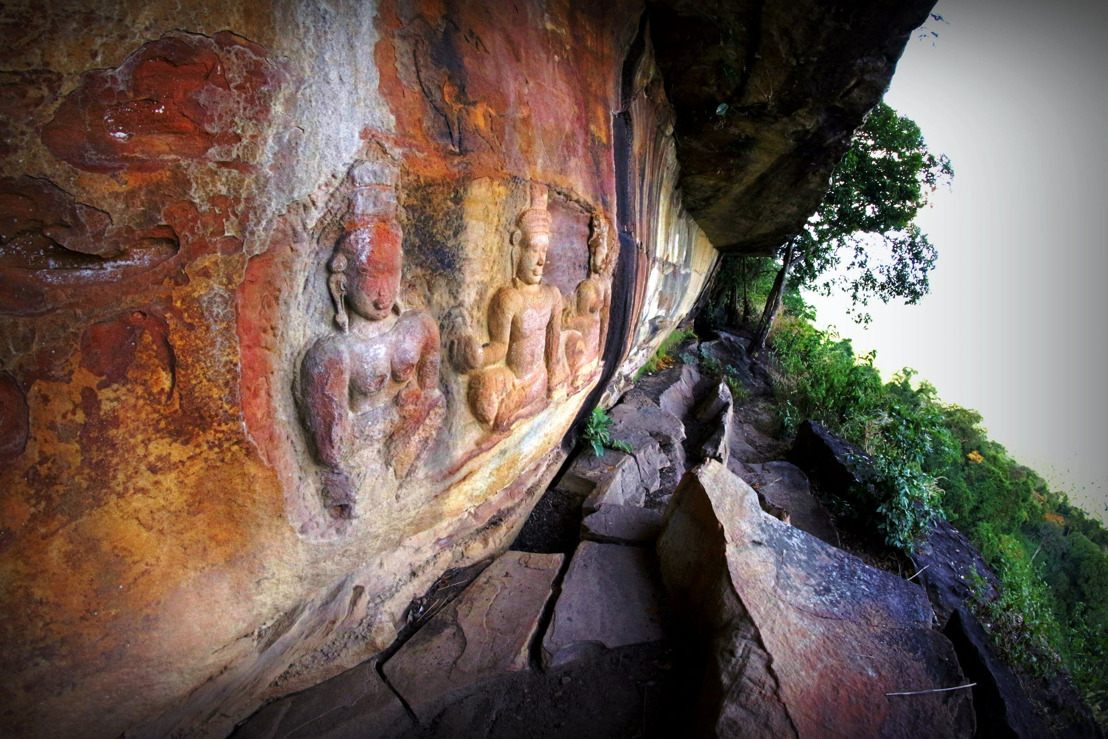 Unseen Laos & Thailand
The ultimate cultural experience
Sunday, April 29, 2018 — This tour will help you discover a completely different side to Thailand. This region is named Isan and lays in the southeastern part of Thailand, bordering Cambodia and Laos. Still mostly untouched and unknown to tourists, Isan's lush paddy fields, unspoiled terrains, free-roaming water buffaloes, ancient traditional silk production, and historical sites, all add to its unique, unhurried charm.
We will also show you Southern Laos' authentic nature beauty: ruin temples, tea & coffee plantation as well as waterfalls. Both regions are usually overlooked by travelers that visit Thailand and Laos. We also let you experience both countries in a way that will give you a much deeper understanding of local cultures and life.
Day 1: Arrival in Pakse
Upon arrival in Pakse, private transfer to your hotel takes place for check-in. The balance of the day is free at your leisure. Overnight at the hotel.
Day 2: Pakse - Paksong - Bolaven Plateau – Overnight at local home-stay
Today, you'll leave Pakse heading to Paksong, the Laotian capital of coffee production and the gateway to the Bolaven plateau, located at an altitude of 1,300 meters. This region, as authentic as it is beautiful, is now inhabited by different Mon-Khmer ethnic groups but originally the French colonists planted coffee, banana and rubber trees there. Nowadays, the coffee produced on this land is globally recognized. The Bolaven area is rich in hidden treasures that are to be found off the beaten track, and you have to travel by Jeep to discover the best of them. You will be welcomed by a passionate coffee farmer who will lead you to discover a magnificent and impressive waterfall where you can bathe and relax before he invites you to see his land. You can stride across his plantations and watch a traditional coffee roasting. Then, you'll head off for a short walk to explore the small paths surrounded by plantations, fields, and forest which eventually lead to your lunch site, set amidst natural and restful scenery. Once you've had your fill of delicious local dishes, your guide will take you for a walk to explore the volcano of PhuSanark where you'll have the ideal position to enjoy a sunset on the plateau.
Your day will finish at a local house, isolated at the top of the plateau and surrounded by his coffee plantations. The family will show you the best of Laos' hospitality and invite you to cook some local dishes with them.
Day 3: Bolaven Plateau - Pakse - Champasak – overnight at The River Resort
Leaving behind the splendid scenery of the Bolaven highlands, you will start to feel the climate becoming warmer then hotter, on the way back to Pakse.
Located at an altitude above 1,200 meters, Bolaven Plateau offers the kind of weather that is perfect for hiking. You'll meet your local guide in front of the Sinouk Coffee Resort before heading off on a 3- to 4-hour easy walk in the highlands. The trip starts in a beautiful setting along a fish pond located a few traditional houses from the Ta-Oy ethnic minority are located. You will then walk in the shade of the coffee plantations to discover the different trees, from Arabica to Robusta, before taking a break near a stream where you'll have a nice view over the jungle. Then continue the hike, passing by some houses where you'll likely meet the locals at work, performing their daily tasks. Eventually, you'll walk a path surrounded by tall grass with many wild plants varieties. At the end of the loop, your minivan will be waiting for you.
Day 4: Along the red trail half day cycling tour
Today you'll go on a journey of discovery of the local life in the surroundings of Champasak town. This 2-hour cycling tour provides you the opportunity to experience the beauty of the Lao countryside set in the middle of stunning landscapes made up of mountains and rice paddies. Follow the red trail, which starts from the town center and passes through 3 villages (Ban Tai, Ban Houay Sa Houa, Ban Houay Khor) scattered in the flourishing natural environment. On the way, the dirt road will lead you to smaller paths where water buffalos, slouched in ponds, watch you nonchalantly as well as to vast open areas where you can witness workers in the fields and people going about their daily living tasks. The trail ends 1 kilometer from the entrance to the Vat Phu complex, the must-see temple in southern Laos, listed as a UNESCO World Heritage site. Overnight at The River Resort
Day 5: Champasak – Pakse – cross the border – Ubon Ratchathani – Khong Jiam
Transfer back to Paske (2.5 hours driving) then cross the border to Ubon, where you continue to Mekong Villas in Isan.
Surrounded by mountains on the Khorat Plateau in Northeast Thailand, discover a completely different side to Thailand in Isan. Still mostly untouched, Isan's lush paddy fields, unspoiled terrains, roaming water buffaloes, ancient traditional silk production, and historical sites all add to its unique, unhurried charm. Khon Kaen offers the perfect entry point for discovering Isan's treasures. Glimpse at immense forests in Phu Ka-Phu Phan Kham National Park, the strangely shaped rock formations at Pha Nok Khao, the archaeological sites at Phu Wiang, or the dinosaur relics at the Phu Vieng Dinosaur Museum and national park.
Head south to explore beautiful Khmer temples and pagodas in Surin, the famous archaeological site Ban Chiang in Udon Thani, and Khao Yai National Park. Immerse in tranquillity amidst mountains and the Mekong River in Loei Province's Dan Sai District. Showcasing Thai life as it was 20 or 30 years ago, Northern Isan has wonderful national parks including Phu Phra Bat Historical Park, Phu Reua National Park, Nong Khai and Huai Krating Reservoir. Distinctively different, Isan's spicy cuisine is as indigenous as its people. For an enticing adventure.
Overnight at Mekong Villas.
Day 6: Sunrise at the cliff and old paintings cliff walk and full day Pha Team National park
Overnight at Mekong Villas.
Day 7: Free day
Overnight at Mekong Villas.
Day 8: Khong Jiam – Ubon Ratchathani – Departure
Transfer back to Ubon Ratchathani for a flight back to Bangkok.
Mirka Illasova Public Relations Representative, Mia Public Relations